Discussion Starter
·
#1
·
I read on another forum that Fluid Film is owned by a German company and the stuff is shipped to the USA for packaging only. Maybe the folks here at Fluid Film could explain the relation to Hodt Korrosionsschutz GmbH.
Nobody is implying there is anything improper or deceptive. It's just kind of interesting because I used fluid film for a long time and I always thought that it was made in California.
They also offer another product using the exact same logo, only it's called Perma Film. I have never seen this in Canada.
And yet another product called Hodt Multi Film using the same logo as fluid film
When you go online you can easily see the import records that Hodt Germany ships every month to Eureka Chemical.(33,000kg which is 75,000 Lbs.)
see attached.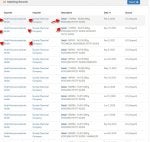 The other forum said that one of the owners Gen Hess lives in the states and her FB page has some posts about Fluid Film. It looks like she races horses. Since this is the Fluid Film forum it would be awesome if she would come on this page and explain the history of Fluid Film and how it was invented by Dr. Herman Hess. That must be her father or grandfather.